DIY Board and Batten Wall
Posted by Jeremy Applebaum on Tuesday, August 11, 2020 at 1:00 PM
By Jeremy Applebaum / August 11, 2020
7 Comments
After living in our home for a year, we were finally ready to do something REALLY permanent. Our living room was completely empty so we had a great blank canvas to work with. Board and batten has been popular in new construction homes lately and we have always had an affinity for chevron and herringbone patterns. So after a little research, we settled on a "party up top, business on the bottom!" board batten modern accent wall!
Check out the process we followed and the supplies we used! All in all, between set-up, install and paint, it took about 13 hours of work.
Supplies:
Wood Cap: We chose cabinet grade hickory because we wanted to really show off the grain of the wood. We purchased these in 1x4 and 1x6 sizes at Menards.
Batten: Ultimately we used 10 pieces of batten. Our wall is 15'5'' feet wide and 9' tall. This included the border and everything. The batten was primed pine, 16 ft. long, 1'' thick, 2" wide.
Stain: We went with MinWax in Espresso but cut way down with paint thinner (exactly 300ML of stain and 8 caps of paint thinner). Otherwise it was just too dark and the grain wasn't visible enough.
Paint: For the top, we chose Edgecomb Gray by Benjamin Moore because it was already the wall color. This made the wall look like it fit right in as opposed to stand out too much... in a bad way ;) Below the wood cap, we chose Dove Tail by Sherwin Williams because it's the color of our dining room and we just love the warmth it exudes. Together these colors really complement eachother.
Sanding the Cap: We used a 220 grit sanding sponge with an angle, which was really helpful to smooth out the cap and get into those tight corners.
STEPS:
1. Grab that blue tape and get to town! It was a really good idea to map this out first. It allowed us to measure it out properly and avoid the wall outlets (that way you don't need to move any electrical around). Our wall length was 15.5 feet wide so ultimately the distance between each batten was 13". We also decided to incorporate a border and we are very glad we did. This allowed for everything to sit perfectly flush against the trim and the corners of the wall. Lastly, we didn't place the wood cap right in the middle of the wall but went for more of a 65/35 layout. No wrong way to do it but we think it looked better this way.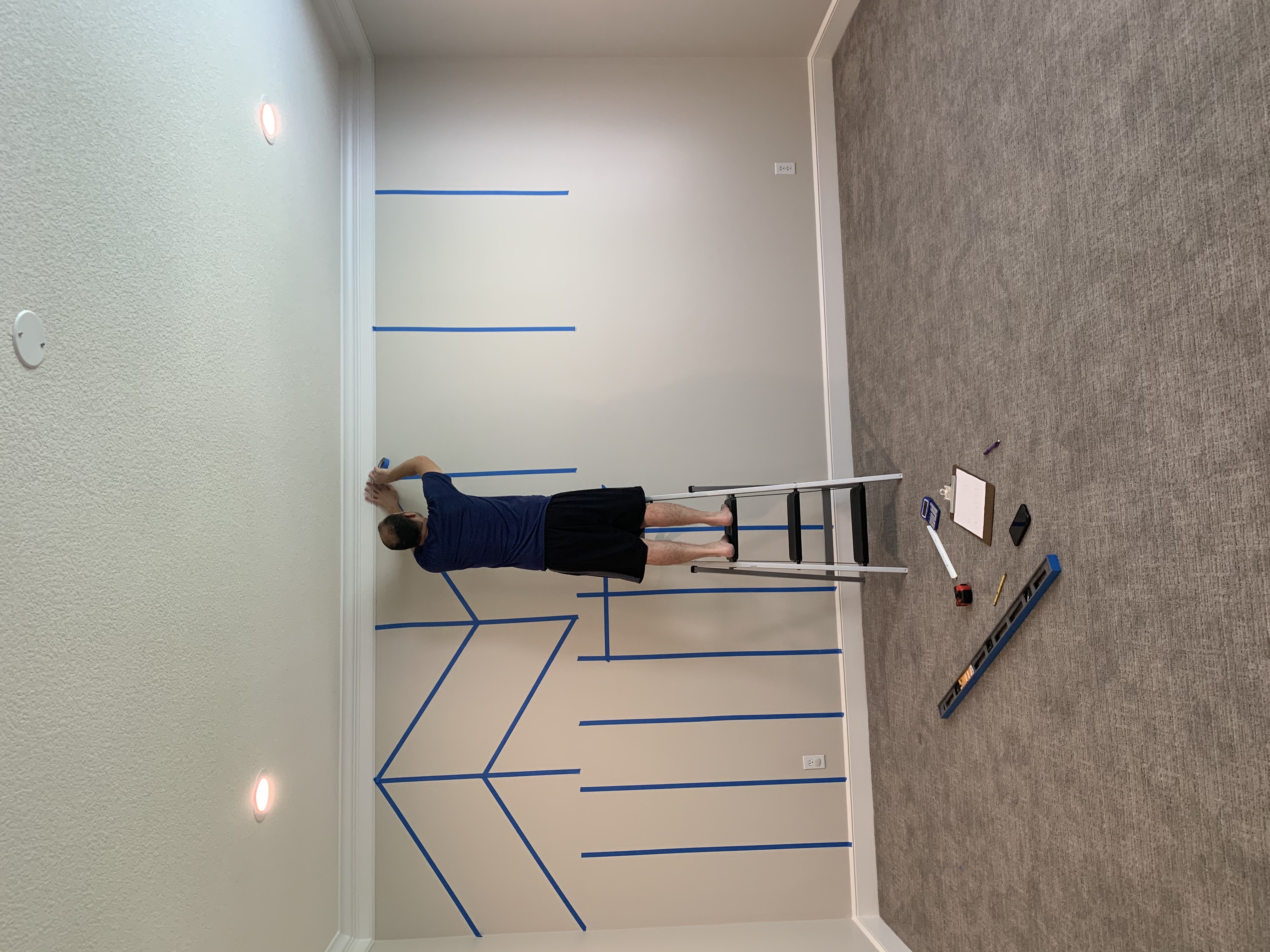 2. Pick your stain! Take your time on the sample piece of the EXACT wood that you are using. If you like one stain but it's too dark, you can use a little paint thinner to take it down a notch. That's how we wound up with a more 'natural' look. NOTE: We chose to stain the cap while it was already nailed to the wall. It's up to you to stain it prior. We also sanded it down very well to ensure the stain adhered properly.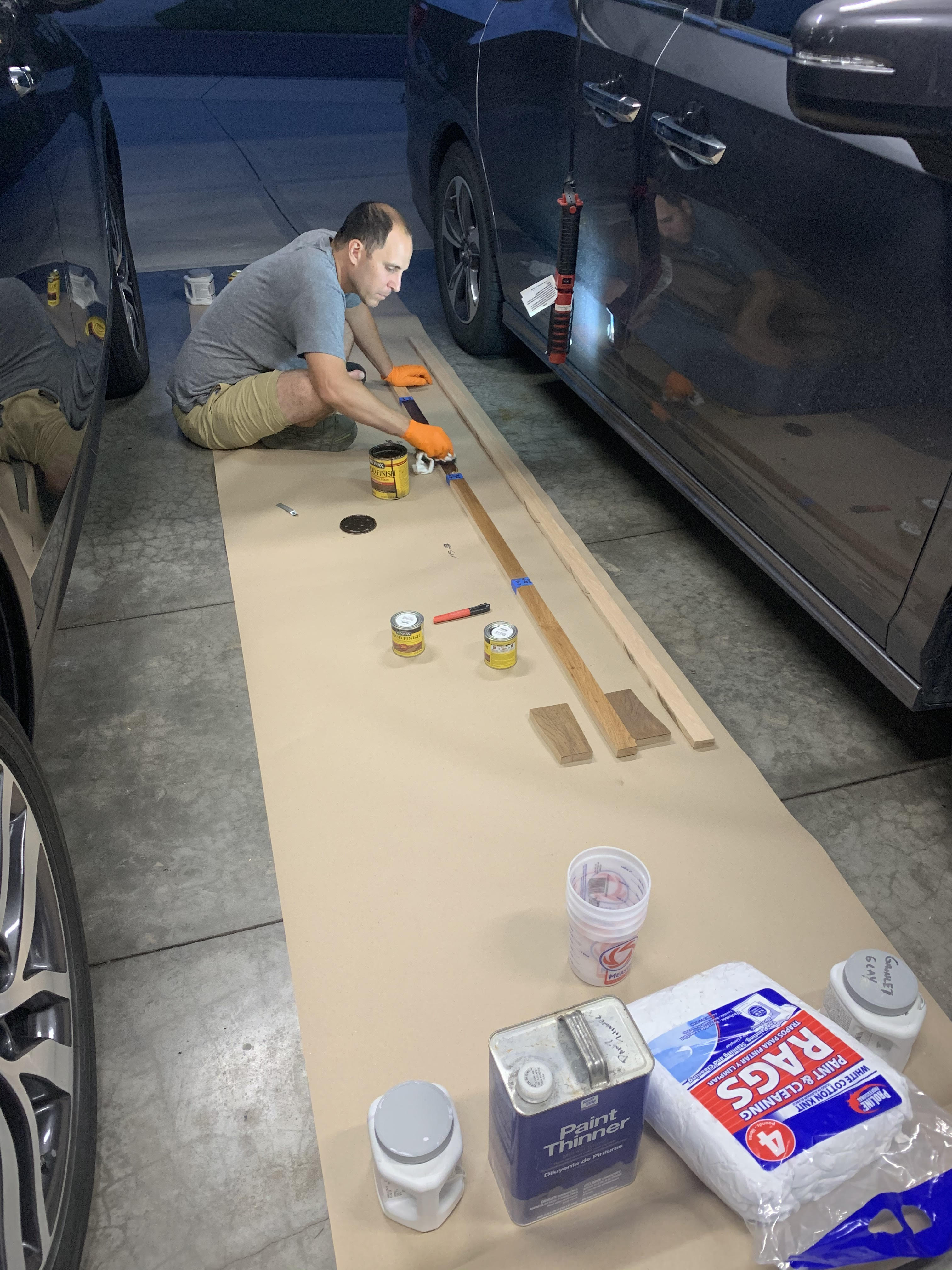 3. Time to get the party started! Remember it's best to pre-measure and make sure you nail the batten around electrical outlets. We installed the bottom part first. Then leveled and nailed in the wood cap. Then installed the top chevron batten. The whole thing was bordered so it sat perfectly flush on top of the trim.
4. Before painting, we applied MinWax water-based polyurethane to the stained wood cap. This took away the chance for the wood to have a yellowish tint after it dried. Then we applied caulk around the batten to seal all the gaps. For the top section we used Benjamin Moore Ultra Spec 500 interior paint in eggshell (Edgecomb Gray HC 173). On bottom we used Sherwin Williams Dove Tail (7018) in Pro Mar 200 in satin. We found these to go really well together because Dove Tail is a warm gray with brown undertones and Edgecomb Gray is a true greige.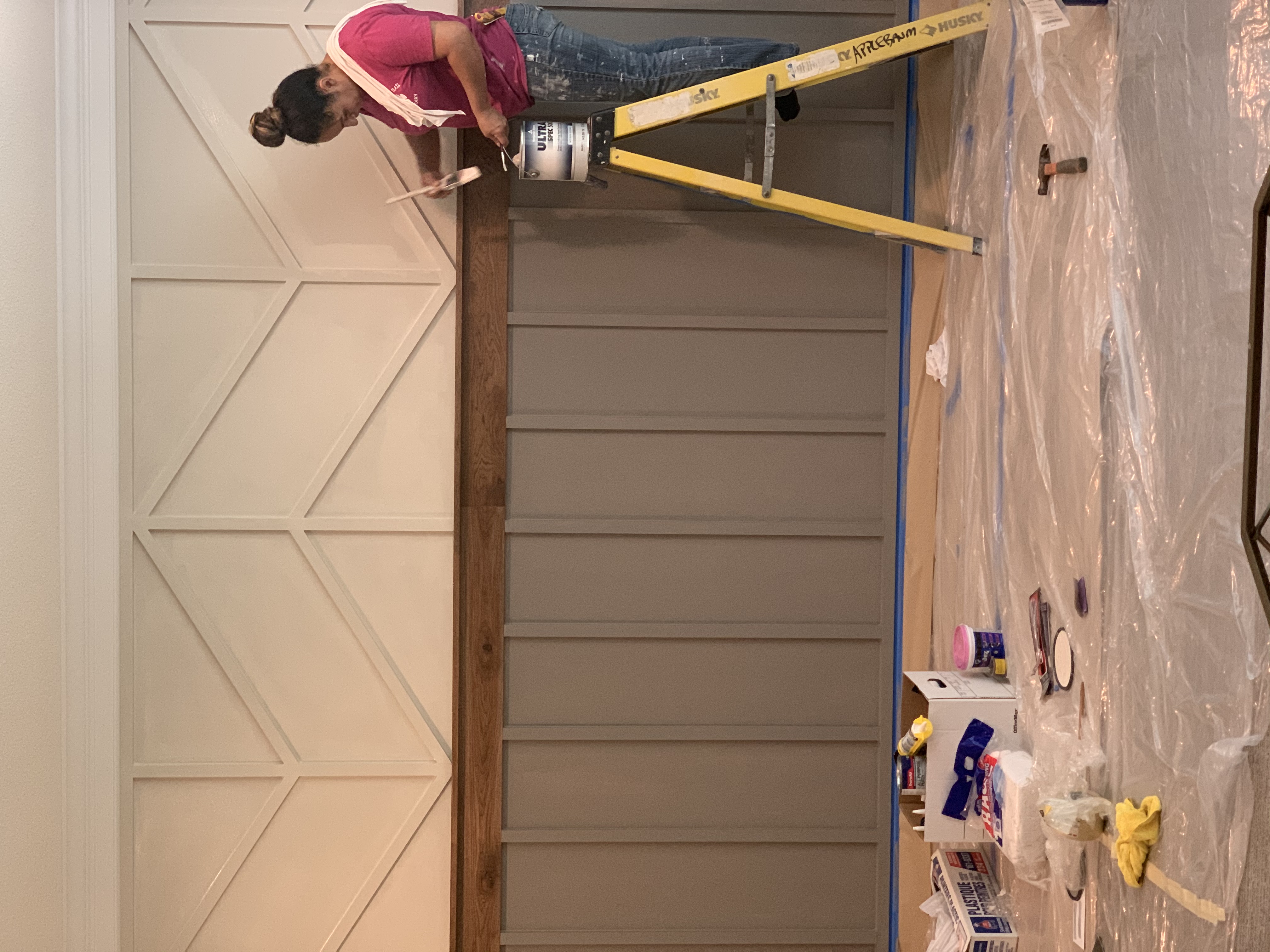 5. After 2 coats of paint, voila! We chose furniture from West Elm so the room takes on a very modern/transitional/mid-century look. We hope you like it, too!